PC
To discover the possible source of your crash, we suggest you check your Windows Event Viewer logs before continuing through any further troubleshooting:

1) Press the Windows key and type 'Event Viewer';
2) Press Enter;
3) Click on Windows Logs in the left pane;
4) Click on System or Application;
5) Look for any errors related to 'Stateofdecay2.exe' or 'Microsoft.Dayton';

If you find any errors related to a 'DCOM Server Error', you will want to try the Windows Update Troubleshooter available here. If this does not help resolve the issue, please contact Microsoft Support directly.
In order to function properly on a Windows 10 PC, State of Decay 2 requires three supporting apps, pictured below: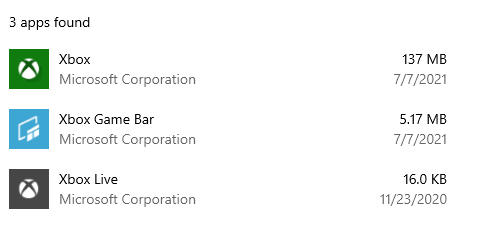 Check your Apps in settings. If you have the Xbox Console Companion installed, please uninstall it. It looks like this:

After that, restart your PC and see if that helps.
We recommend the following fixes, which resolve the crash on launch issue for most PC players. Try these in order, proceeding to the next option only after confirming that the fix you tried didn't solve the issue.
1) Check the antivirus settings to ensure that State of Decay 2 is allowed through. This will vary depending on the antivirus software you are using. This is usually only a problem if you are using an antivirus program other than Windows Defender.
2) Check that your drivers are up to date. Specifically, your drivers for your GPU.
3) Ensure there is only one instance of State of Decay 2 installed on the PC;
Press the Windows Key and type 'PowerShell';


Right click on the icon and select 'Run as administrator';


Type the following command: get-appxpackage *Dayton* -allusers ;


Note if there are multiple drives or users specified in the output;
Delete any duplicate instances of State of Decay 2 and reinstall the game.
4) Reset State of Decay 2:
Type 'Settings' and press enter;
Select Apps > Apps and features;
Click on State of Decay 2;
Restart your computer once the process is complete.
5) Move State of Decay 2 to a different drive.
6) Uninstall/Reinstall State of Decay 2.
If the issue persists after taking any of these steps, please submit a ticket.
Xbox One
We recommend the following action for owners of the Xbox One digital version of the game:
Press the Xbox button to open the guide;
Highlight State of Decay 2, press the Menu button;
Select "Manage game & add-ons";
Select "Installed" > "Uninstall all", then confirm by selecting "Uninstall all" again.
After the uninstall is complete, go to "My games & apps";
Select "Ready to install" and choose State of Decay 2.
For Xbox One disc owners, we suggest the following:
Uninstall State of Decay 2 and any add-ons;
Disconnect your Xbox One from the internet;
Fully reinstall State of Decay 2 from disc;
Reconnect to the internet;
If the issue persists after taking any of these steps, please submit a ticket.