Approximately nine days ago, many PC players were unable to host a multiplayer session. There is an available update that seems to resolve the issue. You can update your Gaming Services via the Microsoft Store. Please let us know if the issue persists after taking the update. Here are the steps:
1) Open the Microsoft Store;
2) Click on 'Library';
3) Click 'Get updates';
This should have updated your Gaming Services.
Then, open your App Settings page to confirm the version you have installed by doing the following:
1) Press the Windows key or open the Start menu;
2) Click the gear icon for Settings;
3) Select Apps & features;
4) Click on Gaming Services;
5) Click 'Advanced options'.
You should see a group of numbers that should look like this: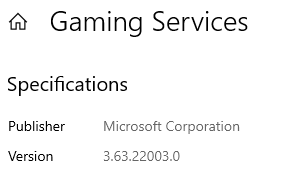 You may need to restart your computer. Please let us know if you are still having issues afterward.